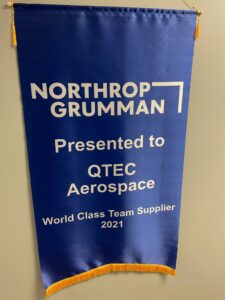 QTEC Aerospace was recognized by Northrop Grumman Corporation as a World Class Team Supplier for the company's outstanding performance in support of Northrop Grumman's cost, performance, and supplier diversity objectives.
"We are pleased and grateful to accept this award," responded Carol Daniel, President, QTEC Aerospace. "Northrop Grumman has been a trusted partner and mentor of QTEC Aerospace for many years. This award reflects the dedication and commitment of the QTEC Team to outstanding technical performance and to maintaining an effective business infrastructure."
Companies recognized exhibited exceptional support and commitment by demonstrating delivery performance, outstanding program support, superior technical achievement, and cost performance/competitiveness and/or continuous process improvement.
The latest award is one of many for the company. In 2018, QTEC Aerospace and Northrop Grumman received the Nunn-Perry Award for the Department of Defense (DoD) Mentor-Protégé Program. The 3-year program was sponsored by the Missile Defense Agency (MDA) and resulted in significant increases in business and staff.