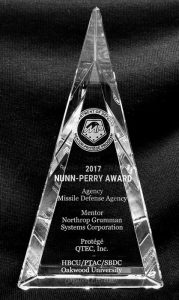 QTEC Aerospace, along with The Missile Defense Agency, Northrop Grumman Corporation, and Oakwood University, is honored to receive the Nunn-Perry Award from the U. S. Department of Defense (DOD) for outstanding achievement in the Mentor-Protégé Program. The Northrop Grumman/QTEC Aerospace Team was recognized during the Nunn-Perry Awards Ceremony held in conjunction with the DOD Mentor-Protégé Training Week in Orlando, Florida.
QTEC was selected as a Northrop Grumman protégé in early 2015 under the sponsorship of the Missile Defense Agency (MDA). This Northrop Grumman–led team leveraged its experts from across the company to work with QTEC Aerospace on improving technical, business management and infrastructure capabilities for increased productivity and growth. Teammate Oakwood University provided training to QTEC personnel for obtaining key security credentials. Over the three-year mentor-protégé program, QTEC Aerospace experienced significant increases in business and staff.
The DOD Mentor-Protégé Program assists small businesses in successfully competing for prime contracts and subcontracts by partnering them with large companies. Successful mentor-protégé agreements provide a winning relationship for the protégé, the mentor and the DOD.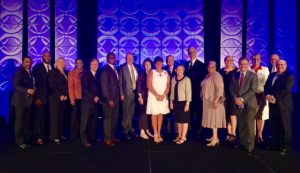 The Nunn-Perry Award is named in honor of retired U.S. Senator Sam Nunn, who sponsored legislation to enact the Mentor-Protégé Program in 1991, and former Secretary of Defense, William Perry. Nunn-Perry Awards are the highest honor companies can receive in the program.