Kathryn E. Broad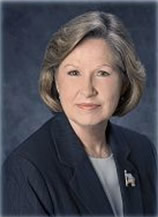 Chief Executive Officer (CEO) and Chief Financial Officer (CFO)
Ms. Broad (Kathy) was born in Mississippi and grew up in many places around the world as a military dependent to her father, who served in the United States Air Force. She is a business administration professional with over 38 years of experience in the military defense and civil space domains.
She is responsible for managing QTEC Aerospace as a Defense Contract Audit Agency (DCAA) and Federal Acquisition Regulations (FAR) compliant Women-Owned Small Business (WOSB). Her professional responsibilities include corporate oversight of financial and fiscal management, business development, operations, contracts, subcontracts, procurement, marketing, communications, human resources, payroll, security, and safety. Ms. Broad is dedicated to ensuring all QTEC commitments are met with the highest level of integrity and embody the QTEC core values.
Ms. Broad has previously worked with several Huntsville-based companies to include but not limited to: TRW (now Northrop Grumman), New Technology Inc., and QuantiTech, Inc.
She has received several professional awards and recognitions to include the 2015 Women in Defense (WID), Tennessee Valley Chapter (TVC), and Professional of The Year award hosted by the Huntsville Association of Technical Societies (HATS). Ms. Broad encourages an employee-centric culture within QTEC Aerospace, the result of which is appreciated and demonstrated by her employees with yearly nominations as one of the Best Places to Work. With nine nominations and seven wins since 2010, QTEC continues to embody why they are truly a Best Places to Work small business in Huntsville, Alabama.
Ms. Broad is a past president of Women In Defense (WID), Tennessee Valley Chapter (TVC) and continues to support this organization as a past president. She is the mother of two (daughters) and the grandmother of three.