Kathryn E. Broad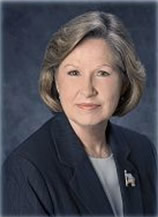 Kathryn Broad, Founder and Chair of Board of Directors
Ms. Broad (Kathy) was born in Mississippi and grew up in many places around the world as a military dependent to her father, who served in the United States Air Force. She is a business administration professional with over 40 years of experience in the military defense and civil space domains.
As founder and previous CEO of QTEC, Kathy received several professional awards and recognitions to include the 2015 Women in Defense (WID), Tennessee Valley Chapter (TVC), and Professional of The Year award hosted by the Huntsville Association of Technical Societies (HATS). She is a past president of Women In Defense (WID), Tennessee Valley Chapter (TVC) and continues to support this organization as a past president.
Throughout her tenure as CEO, Kathy grew and encouraged an employee-centric culture within QTEC Aerospace; the result of which is appreciated and demonstrated by her employees with yearly nominations as one of the Best Places to Work. With twelve nominations and eight wins since 2010, QTEC Aerospace continues to embody why it is truly a Best Places to Work small business in Huntsville, Alabama.
Kathy's previous work history includes several Huntsville-based such as TRW (now Northrop Grumman), New Technology Inc., and QuantiTech, Inc.
While Kathy retired as CEO in January 2022, she remains as Chair of the QTEC Aerospace Board of Directors. She is the mother of two (daughters) and the grandmother of three.