The Huntsville Air Defense Artillery (ADAA) and North Alabama Field Artillery Associations (NAFAA) recently announced Ms. Carol Daniel, President of QTEC Aerospace, as a 2021 recipient of the Honorable Order of Saint Barbara. This award acknowledges "those individuals who have demonstrated the highest standards of integrity and moral character, displayed an outstanding degree of professional competence, and served Air Defense or Artillery with selflessness, and contributed to the branch."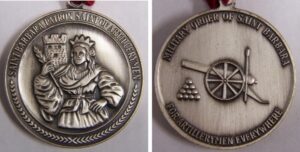 Ms. Daniel was selected for this prestigious award based on her 30 years of experience in the Missile Defense domain and direct contributions to the advancement of systems engineering on major defense programs, including early and current versions of the Ground-Based Midcourse Defense (GMD) program, and the Integrated Air & Missile Defense (IAMD) Battle Command System (IBCS).
Due to the pandemic restrictions on public events, the award was presented to Ms. Daniel by ADAA President Col Doug Waddingham at a small gathering of friends and colleagues. For more information about ADAA and the history of the medal, visit http://www.huntsvilleADAA.org.